Description
Strategies in NinaTrader 8 are fully automated algorithms for the trading coded in NinjaScript/C#.
MZpack API (Application Programming Interface) is an interface to MZpack Indicators that introduces traders to a programmable way of creating their own trading algorithms and automated strategies in NinjaTrader 8.
With an application programming interface, traders can use provided classes as building blocks to construct strategies with the minimum of coding. At the same time, MZpack API grants granular flexibility in design instead of offering pre-made strategies.
What once took days or weeks, now takes hours or even minutes!
Who is the MZpack API for?
You want to find/backtest an order flow/order book strategy
You have candidate strategies to backtest
You have your trading strategies to automate
You want to trade manually but with a helper to spot order flow signals/patterns
You have basic/advanced C#/NinjaScript skills or you can hire someone. We provide our own Coding Service for you
Main Features
The pattern-based concept for strategy logic. Logical AND/OR/CONJUNCTION trees
Custom and built-in signals
Proprietary ATM functionality
Backtesting with ATM support
Visualization of patterns
On-chart explaining Dashboard
Auto or Manual operating modes
Customizable Control Panel
Risk Management
Logging system
Custom Indicators based on MZpack API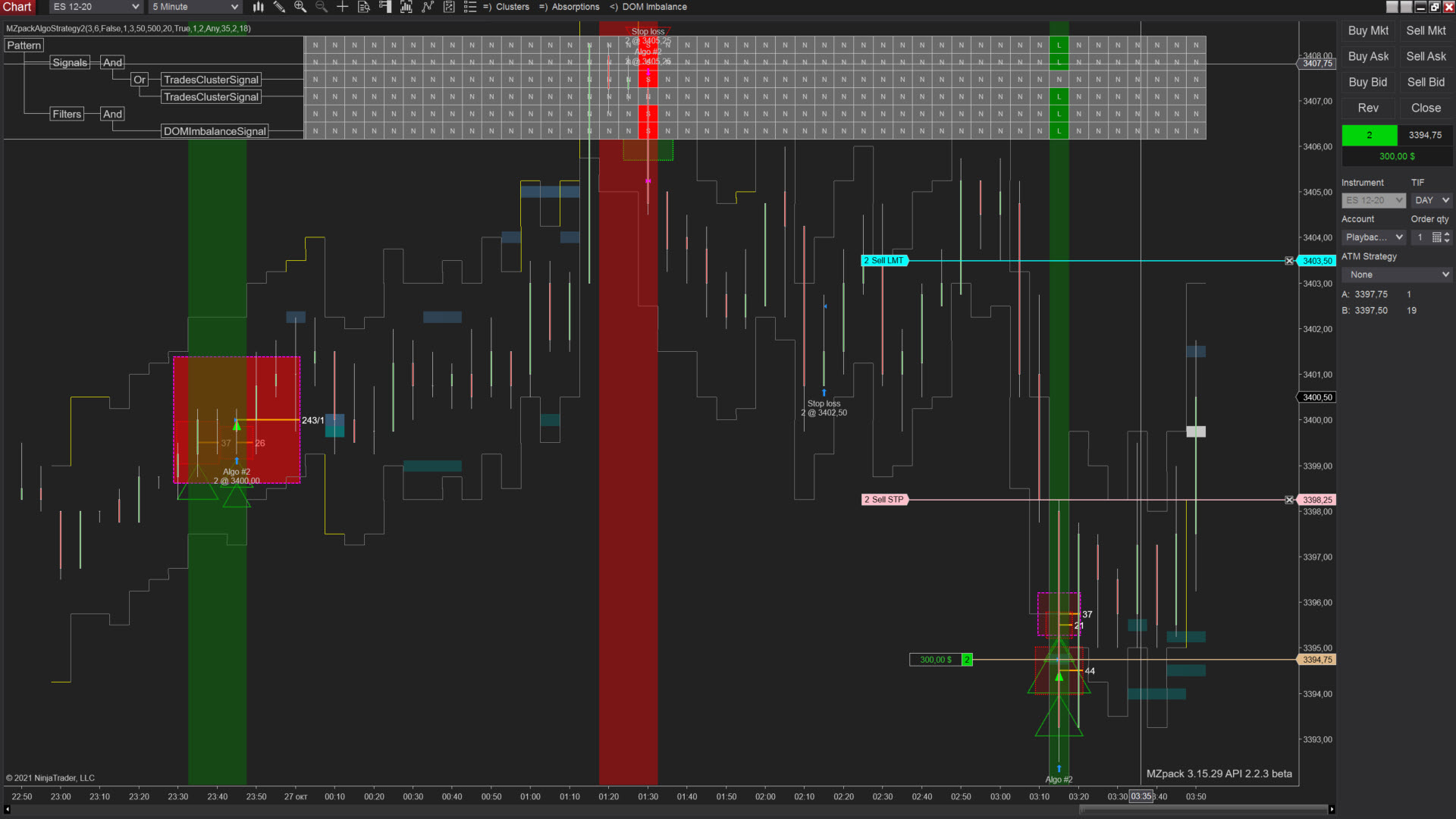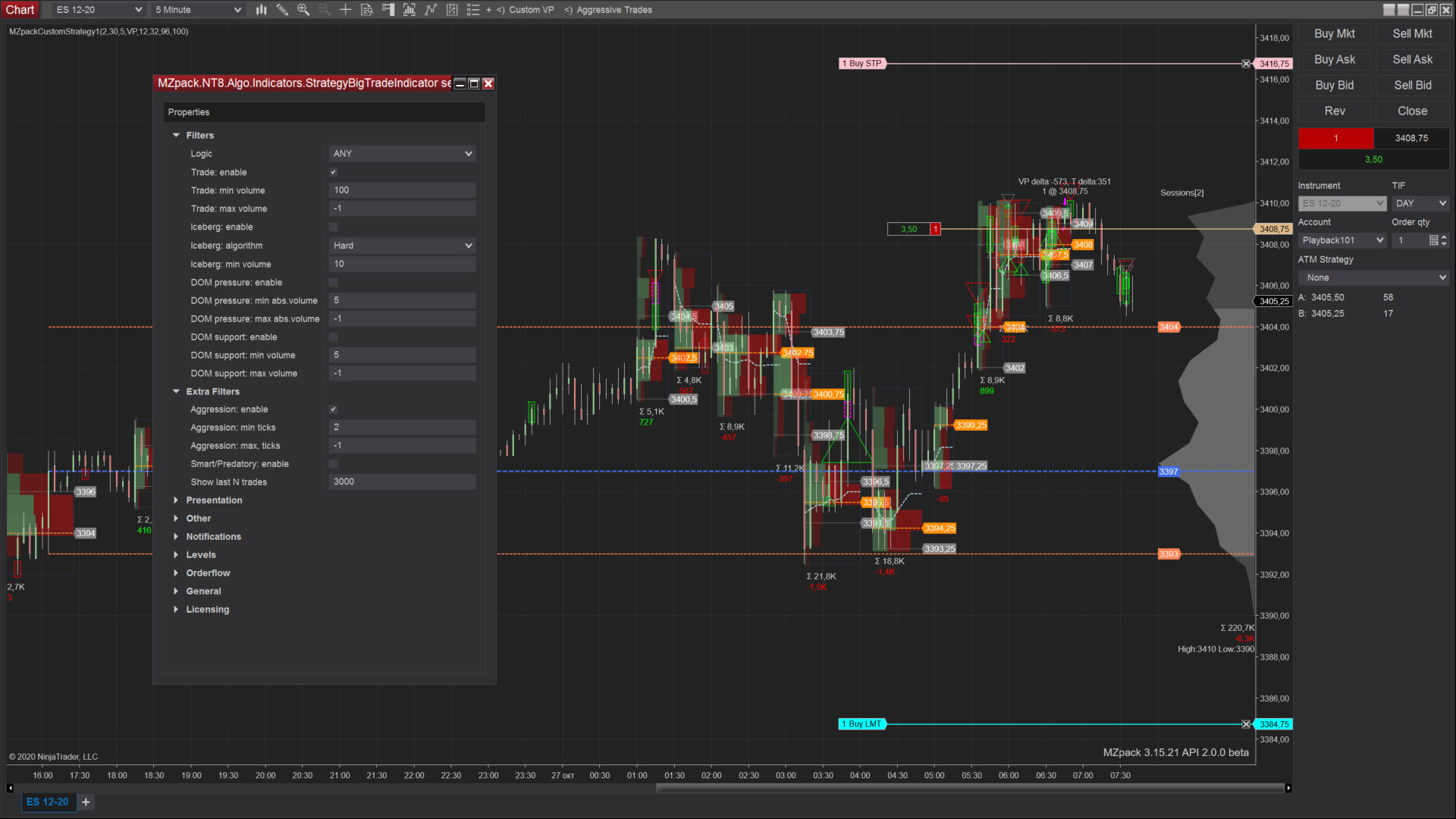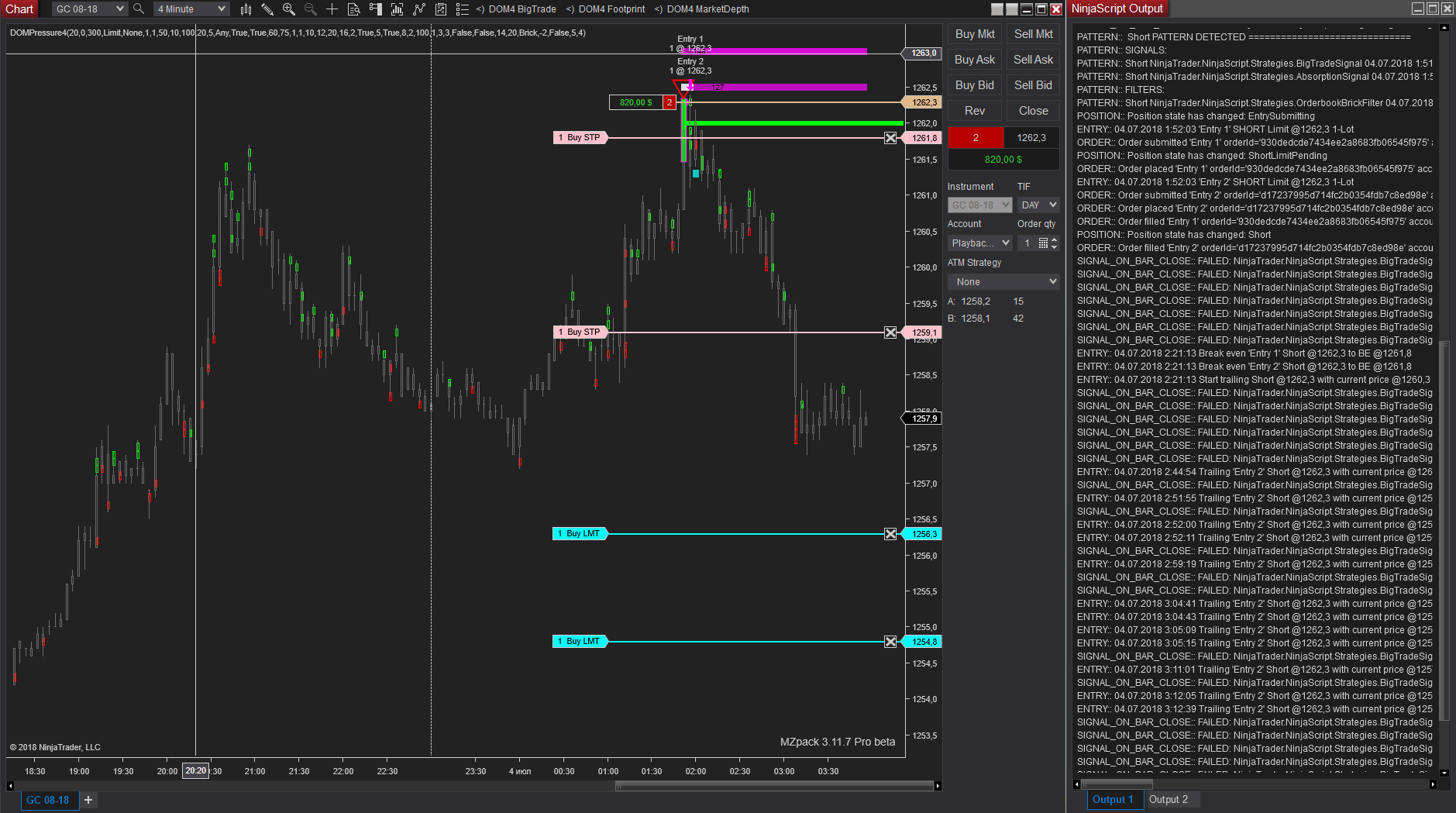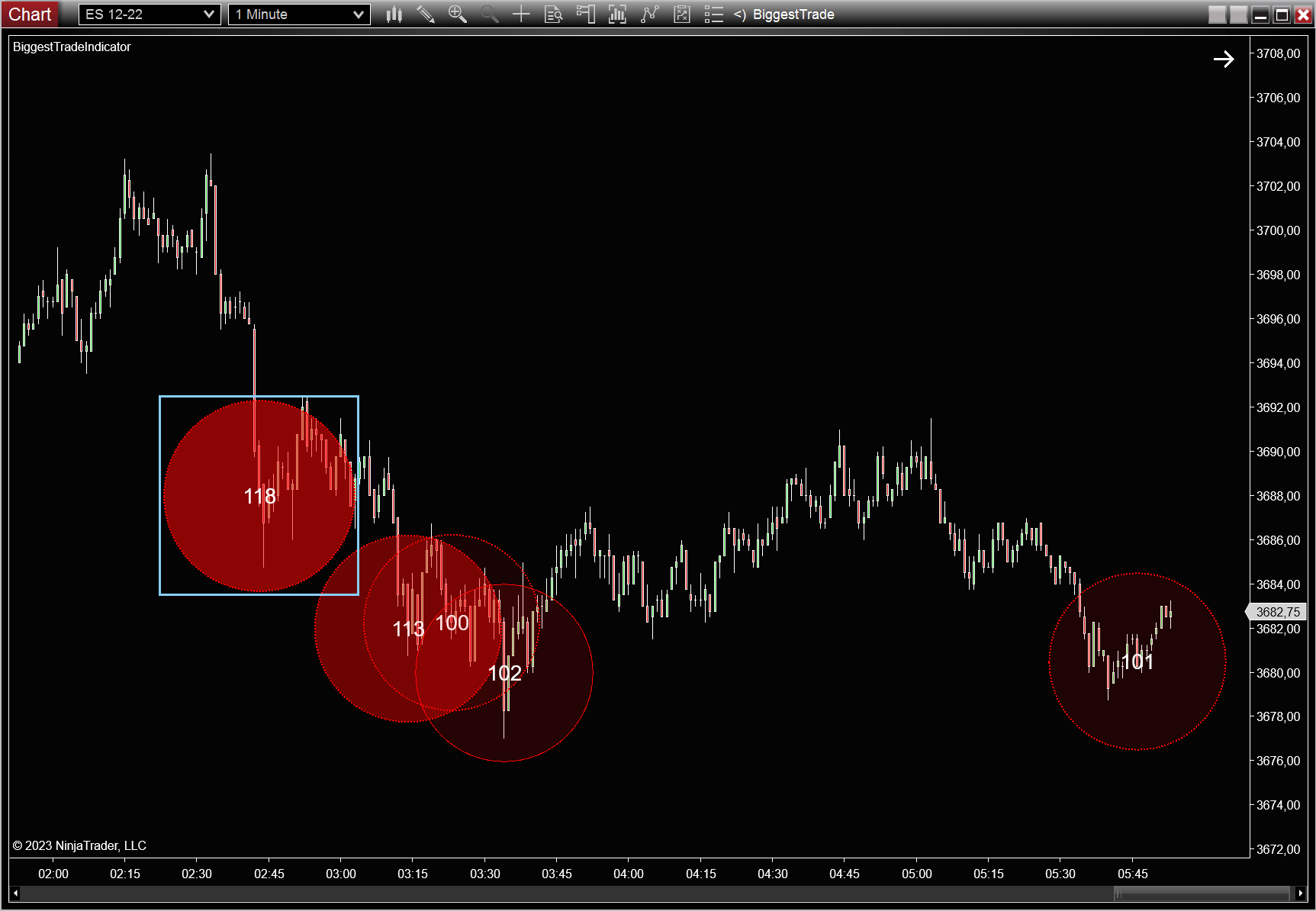 What you will get
MZpack API for 2 or 3 devices*
MZpack Indicators for NinjaTrader for 2 or 3 devices*
Source code for API extensions (trade management extensions, etc.)
Free support, including reviewing your code by our developers
*depending on chosen license type
** the samples are for learning and demonstration only but not for live trading
This product includes 2 devices licenses for MZpack API: for example, one for a backtesting machine and one for a production machine. Also, it includes 2 devices license for MZpack 3 for chart research because API has no indicators which you could place on the chart from UI.
You can find all MZpack 3 API samples inside MZpack 3 API installation folder under '\API\samples' folder.
Download custom strategies samples. The samples are for learning and demonstration only. DON'T IMPORT THIS FILE INTO NINJATRADER. Unzip the archive and review the code. See the User Guide on how to modify and compile the samples.
What's in The Package?
Requirements
| Required Market Data | Level 1 | Level 2 |
| --- | --- | --- |
| Indicator | mzFootprint, mzBigTrade, mzVolumeProfile, mzVolumeDelta | mzMarketDepth |
| Historical Data Support | | |
| Market Replay Support | | |
| | Futures | Forex | Stocks | Crypto |
| --- | --- | --- | --- | --- |
| Supported Market | | * | | |
* mzMarketDepth indicator can't be used on Forex market
** Market data connector with Level 2 data support is required
| | Minimal | Optimal |
| --- | --- | --- |
| OS | Windows 8.1 32-bit | Windows 8.1/Windows 10 64-bit |
| NinjaTrader | 8.0.26.1 | 8.0.27.0 |
| CPU | Intel Pentium Core i3 | Intel Core i9/AMD Ryzen 9 |
| Memory | 4Gb | 8-16Gb |
| Storage | HDD | SSD/NVMe |
Licensing and Services
| Service | | Note |
| --- | --- | --- |
| Update | | WE GUARANTEE FREE UPDATES AND SUPPORT IN A LICENSED PERIOD |
| Helpdesk | | See Service Agreement |
| Knowledge Base | | Quick start with MZpack, Indicators' settings, FAQ, Troubleshooting, etc. |
| NinjaScript/C# Code Reviewing | | Reviewing your code by our developers. FREE |
| Coding Service based on MZpack API | | From $300 per a project |
| Transfer of License | | An MZpack license is linked to your PCs with product activation. But if you change machines or its critical hardware parts, you will be able to transfer your license within 24 business hours by purchasing this transfer service. |
Upgrade Plans
See available Upgrade Plans here.
Ask question
If you have any questions about the payment process, upgrade policy, etc. please let us know.
Try MZpack Indicators for NinjaTrader 8 before buying MZpack Indicators & Strategies w Divergence for NinjaTrader 8
TESTIMONIAL DISCLOSURE: TESTIMONIALS APPEARING ON WWW.MZPACK.PRO MAY NOT BE REPRESENTATIVE OF THE EXPERIENCE OF OTHER CLIENTS OR CUSTOMERS AND IS NOT A GUARANTEE OF FUTURE PERFORMANCE OR SUCCESS.