Q: Will MZpack 3 for Ninjatrader 8 work with my license for NinjaTrader?
A: MZpack doesn't depend on the type of Ninja license. You can use MZpack with any version of NinjaTrader – free, lifetime, subscription. Read how to get NinjaTrader 8 free.
Q: How to update my MZpack?
A: Download the latest version of MZpack from the site, close NinjaTrader and install the product over the previous version.
Q: Where can I download the latest version of MZpack?
A: You can find the download link in your order email or in your Dashboard on our site. The link in Dashboard available for purchases made after November 2nd, 2017.
Q: Download doesn't start, an error page is displayed after I entered the license key on the Customers Download Page.
A: The possible reasons:
1. Typo or spaces in the license key – use Copy/Paste method.
2. A wrong product is chosen. If you purchased one or more single indicators (not the whole package) choose 'Single Indicators' version.
3. Your lease period has ended
Q: I tried to import downloaded MZpack 2 .zip but get an error saying "The NinjaScript archive was made from an older, incompatible version of NinjaTrader"
A: Don't try to import .zip file. Follow installation instructions, please.
Q: Why can't I enter the license key into MZpack Activating window?
A: You are running the TRIAL version. Download and install paid version, please.
Q: I have single indicator license and purchased a license for new one. How can I activate the new license?
A:
1. Delete license file: C:\Users\<Windows user name>\AppData\Local\MZpack\MZpack 3 NT8\Settings.xml
Folder 'AppData' is a hidden folder. So check View – Hidden items in Explorer first (for Windows 8 and Windows 10). Video instructions.
2. Open NinjaTrader and use a new license key for activation.
Q: I have license checking issues
A: WARNING: Description of Licensing system starting from MZpack ver 3.14.0 beta. Prior versions had different licensing systems and not supported now. Update up to the latest version, please.
Licensing system of the product is based on the checking on what machine do you currently run the product. We use Hardware Id for this purpose. This is not  NinjaTrader's machine Id! The Hardware Id of your machine is stored on our server at the moment of activation (when you entered the license key and clicked Activate).
To calculate Hardware Id we use motherboard Id, CPU(s) Id, and serial of your 1st physical drive. Changing motherboard, CPU or 1st physical drive will cause a license checking error.
In this case, contact support, please.
Q: Upgrading sequence up to MZpack 3.14.0 beta or newer
A: Instruction
1. Install MZpack 3.14.0 beta or newer version
2. Contact support with a request for activation reset
3. Wait for the reply. DON'T run any previous version of MZpack on your machine!
4. Once you will receive support reply you may run MZpack 3 products.
Q: Can I use two indicators with different subscription periods on one machine?
A: This is not possible by default. E.g. lifetime and subscription licenses can't be used on the same machine, all subscriptions periods must start and end on the same dates. Licensing periods must be equal. Contact support if you really need this.
Q: High CPU load, long chart loading or chart is not loaded at all, wrong positions of indicator's plots.
A: Delete your Ninja database cache data:
• Shut down NinjaTrader.
• Open the Documents > NinjaTrader 8 > db folder.
• Delete the sub-folder named 'cache'.
• Restart NinjaTrader and test.
The NT8 data cache folder saves pre-formatted data to suit your bars types, the purpose of which is to enable faster startup times. Sometimes in certain circumstances, your chart bars will be full of errors, so it doesn't hurt to clear the cache once in a while, or every day if you are having issues. Also, you can read more details and get a dedicated utility. If this will not help please do as follow: In Ninja menu: Tools – Database Management – Repair DB – Repair
Q: Is it possible to have the volume profile as behind of candle bars? 
A:
Select chart bars by clicking on one of them
Press and hold Shift key
Scroll mouse wheel to bring chart bars to the front
Q: MZpack for NinjaTrader 7. High memory usage or "Out of system resources" message appears after some MZpack indicators were placed on the chart.
A: NinjaTrader requires a huge amount of system memory in some cases.
Check if any unused workspaces with MZpack indicators were opened.
Set Days to load parameter of the chart is equal to 0 (i.e intraday market data only) for all chart with tick data series BEFORE applying any of MZpack chart templates or indicators to it. Set this parameter to no more than 5 for all others charts.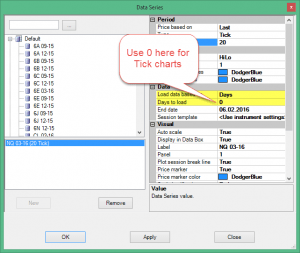 We added a parameter for all MZpack orderflow-based indicators to control the amount of market data loaded for tick charts. It set to "Intraday data only" by default. If you need more historical data on chart set this parameter to false and control amount of loaded data by Days to load parameter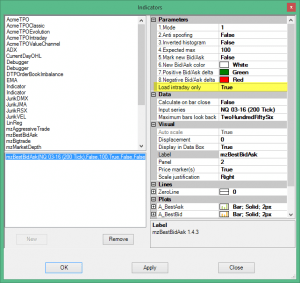 For additional information please read this article How to boost NinjaTrader.
Q: Where I can find chart templates and trading setups?
A: MZpack installer includes some chart templates as a starting point. Chart templates described in User Guide. Also, check Education section at site main menu to learn more. Discover more trading setups on Trading Setups page.