Order flow reading and day trading strategy
Order flow is not only tape reading, T&S or DOM. We believe that this tools rather complicated for most of day traders to understand in all details and to use. Order flow on the chart or order book on the chart with time scale is much more convenient for traders who operates basically on big time frame charts. Also on time-framed charts day trader can observe market in some period of time sufficient for making trading decisions.
How to add order flow reading to your day trading strategy
So trader need second chart with much smaller time frame in addition to main chart or big picture. In this example we added 10 Seconds chart to 30 Min main chart.
Our ZN futures example strategy is based on Market Profile TPO. We want open positions on strong day levels like POC, IBH/IBL, VAH/VAL (including previous day), tests of single print areas etc. On this levels we want to trade only two scenarios – breakout or reversal.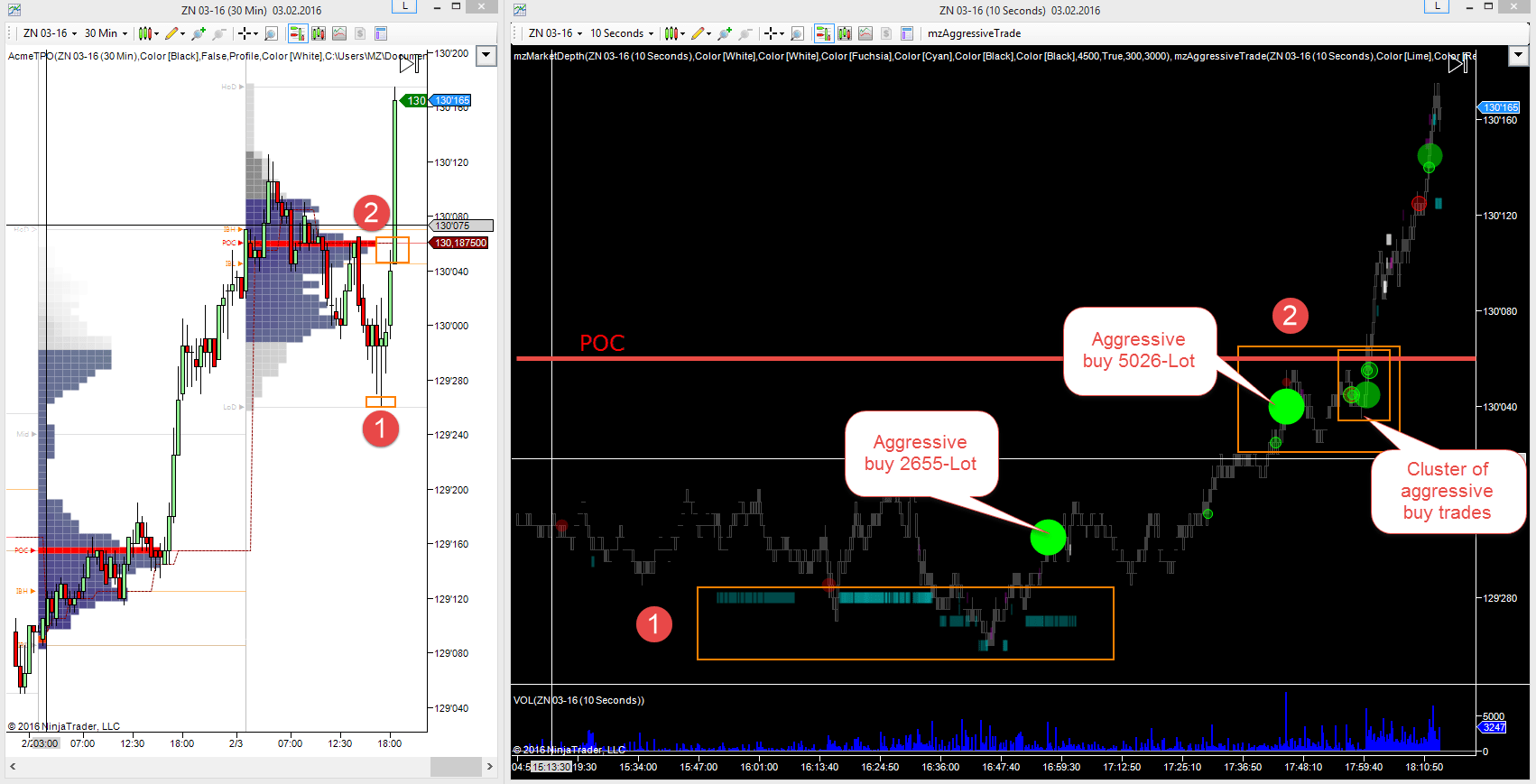 On big picture we can see up trend because value area (VA) of current day is higher than VA of previous day. But inside current day we see down trend because we have LH/LL price action. So we want to spot area to enter long by global trend direction. For our purpose we will use mzMarketDepth and mzAggressiveTrade NinjaTrader indicators on 10 Seconds chart.
In area 1 we have a test of a single print area of previous day (see 30 Min chart). mzAggressiveTrade indicator shows to us only couple of small sell trades before this level. But mzMarketDepth shows high density of limit orders in DOM. We can suppose now that there is some "big buyer" on this level. Now we are ready for buy scenario. But we need confirmation. And this confurmation is big aggressive buy trade 2655-Lot. Now we can enter long.
In area 2 we have current day POC retest. Now we don't see big seller on mzMarketDepth indicator. We see very big aggressive buy trade 5k-Lot. But this can be stops of sellers who entered in area 1. So we need confirmation again. We can enter long on POC breakout after some initiative to buy, in this case it's cluster of aggressive trades.
Chart template mz___ZN_10sec_MD_Aggr.zip
Download, unzip and copy xml to NinjaTrader 7 chart template folder: C:\Users\<Your user name>\Documents\NinjaTrader 7\templates\Chart
Please give us feedback and ask you questions.